Not all CBD is SHEbd™
Powered by science, SHEbd offers the world's most advanced CBD-rich
broad spectrum hemp products to help women experience ultimate wellness.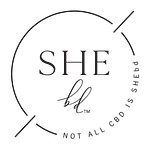 * These statements have not been evaluated by the Food and Drug Administration. This product is not intended to diagnose, treat, cure or prevent any disease.
SHE's Transparent
These are important to us, and they should be to you.
Zero THC
All of our broad spectrum hemp products are lab tested and third party verified THC-free.
Made in USA
All SHEbd products are manufactured in the USA from 100% American-grown and processed, pesticide-free hemp, guaranteeing the purity and quality of everything we sell.
Broad Spectrum
SHEbd CBD is broad spectrum, which gives you more than CBD isolate—you also get all of the beneficial cannabinoids, terpenes, and flavonoids, minus THC.
Organically Sun Grown
The hemp we use is 100% organic, pesticide-free, and sun grown here in America—as nature intended. It provides critical habitat for bees and other pollinators, too!
Halal Certified
Some things are not too good to be true! SHEbd™ is honored to be on the short list of reliable and recognized Halal certified THC-Free CBD providers.
Nano Technology
The smaller size of our patent-pending, water-soluble nanoemulsion formula leads to a much higher absorption of the hemp oil droplets in the bloodstream.
3rd Party Verified
Because CBD oil is not regulated by the FDA, the only way to know you're getting pure, organic, real CBD extracted from hemp is through 3rd party verification. Is SHEbd™ CBD Oil verified by a third party? You bet, each and every drop.
Kosher Certified
With the Kosher certified symbol you can rest assured that SHEbd™ THC-Free CBD products are congruent with normative Kosher industry standards. Some things are not too good to be true!
5

-Star Reviews

I don't take the time to write reviews, so the fact that I'm writing one should speak for itself.
This sheet mask is AMAZING! It gives me the most insane glow.

Fast Shipping, amazing packaging repeat buyer because I love the product and the packaging is also so beautiful.

Great gift for anybody. I've been using this oil for a long time, great discovery.
Why Supporting Women Will Transform Your Life
When women support women it makes a powerful statement, and it can enhance your life in so many ways — from your career to your well-being. Here's how to nurture the relationships with the women in your life.
INSTAGRAM
@shebdoil
LET'S BE FRIENDS.