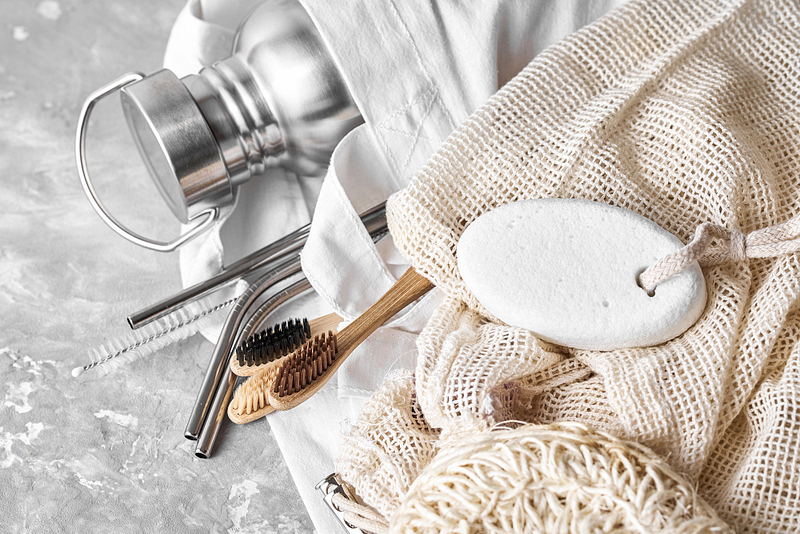 Shopping for gifts that are sustainable can be challenging. If consuming in a planet-friendly way is a priority for you, you could always make a DIY present for your friends' and family's special occasions—but we know that's easier said than done. If you don't have the time or the crafting skills to create something from scratch, the good news is that there are more and more environmentally friendly companies out there that align with your values. Here are a few guidelines for buying more ethical gifts:
Look for something you know your loved one will not only use, but also cherish forever. When gifts go untouched, or get tossed out, that creates more unnecessary waste — the last thing our planet needs right now.
Avoid plastic products, although recycled plastic is OK as long as the brand is committed to sustainable practices throughout its production process.
Instead, prioritize materials that are energy- and water-efficient, free of harmful chemicals, durable and made from natural and renewable sources, such as fabrics like organic cotton, linen, bamboo or viscose, and plastic alternatives like glass, stainless steel, wood, bamboo or ceramic.
If gifting something perishable, like food or perfume, check that the product itself is made using natural ingredients and sustainable processes, and make sure the packaging is either fully recyclable or reusable as a container or piece of décor.
Finally, do your research on the brand. Are they committed to full transparency on their production processes, in terms of both sustainability and ethics? Are they constantly striving to lower their carbon emissions and waste? Do they use natural and renewable materials? Do they pay their workers a living wage and treat them fairly? Do they give back to their communities? All of these questions are crucial considerations when deciding which companies to support.
Now that you know what makes the perfect sustainable gift, we've put together a few ideas to get you started.
01 — Tie-Dye T-Shirt
Tie-dye is the retro trend making a comeback everywhere this year, and Los Angeles-based label Come Back as a Flower (aka CBAAF) is delivering on it. No two of their iconic unisex T-shirts are exactly the same, but they are all ultra-cool, made out of recycled cotton, sustainably made and hand-dyed. All of their products are ethically made in LA, and to top it all off, CBAAF is a proudly Black-owned business.
02 — Handcrafted Bracelet
Jewelry is always a good idea. Take it up a notch with a bracelet handmade by artisans working with TARA (Trade Alternative Reform Action) Projects in the Delhi, India, area. TARA is committed to fairtrade practices and empowering the artisans it works with to earn a sustainable income with their craft. This bracelet is made with glass beads and cotton thread.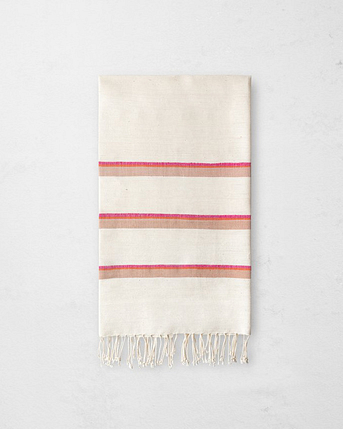 03 — Handwoven Hand Towel
Ideal for a housewarming gift, this hand towel from Bolé Road Textiles was woven in Ethiopia by artisans using ancient weaving traditions and 100% Ethiopian cotton. The Brooklyn-based brand sources all products ethically and works to empower the communities they work with.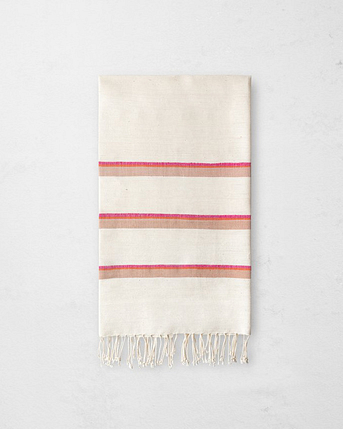 04 — Geometric Throw Pillow
A bold, stylish throw pillow will liven up any household. We love this one from Anchal, made with sustainable organic cotton by an artisan in Ajmer, India. Not only is this pillow fairtrade, eco-friendly and produced by a women-owned brand, but the distributor, Made Trade, guarantees that all shipping is 100% carbon offset.
05 — Chic Coffee Mug
For your friend who needs their morning joe, a mug is a simple and thoughtful gift. This striped one from Raven + Lily is handmade by women using sustainable ceramics. It's carbon-neutral and fairtrade-certified, and the company gives back to the community.
06 — Organically Grown Hemp Oil
If your giftee has been feeling a little out of whack lately, a CBD-rich hemp oil might be exactly what they need. SHEbd's Hemp Oil is organically grown and made with zero additives or dyes. The packaging is recyclable and part of each purchase benefits One Tree Planted, to replace trees lost in the California wildfires.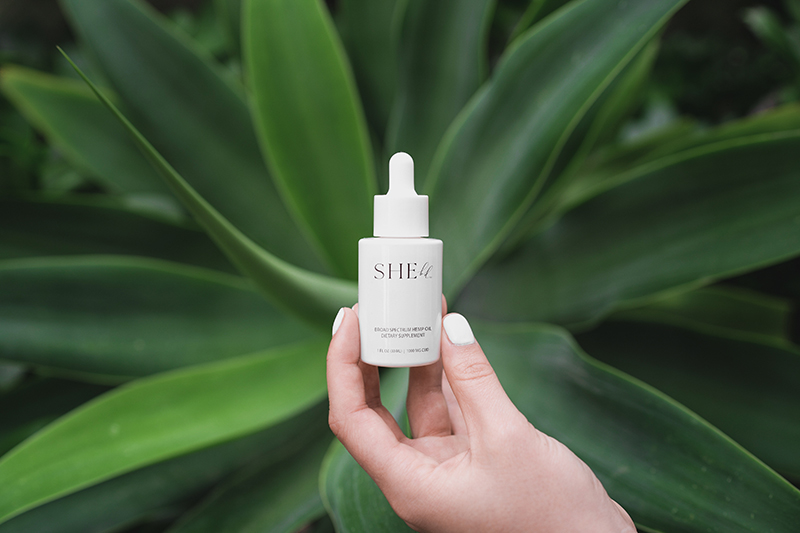 07 — Heirloom Chocolate Bar Bundle
Whether it's for a chocolate lover or for someone you don't know too well, this organic chocolate bar bundle by Beyond Good is a sure winner. Featuring a selection of flavorful dark chocolates from Madagascar, these bars are made from beans sourced directly from the farmers, to ensure that they can be paid fairly and to completely eliminate the middlemen that make the farm-to-factory process much longer than it needs to be.
Final Thoughts
Our planet needs all hands on deck to preserve its natural resources, starting with the products we buy and consume. When choosing a gift, keep the guidelines for a truly eco-friendly gift in mind and take some inspiration from our selection!
---
Iris Goldsztajn is a London-based writer and editor with 6 years of experience creating content for various outlets. Her work has appeared in InStyle, Stylist, SheKnows, Cosmopolitan, POPSUGAR, Her Campus and more.
References:
https://www.vogue.com.au/fashion/news/how-sustainable-is-recycled-plastic-really/image-gallery/aca886fece09012ae9f97d0cb700ef78
https://www.cdc.gov/sustainability/lifestyle/index.htm
https://www.curiouslyconscious.com/2019/12/which-fashion-fabrics-are-most-sustainable.html/
https://learn.eartheasy.com/guides/the-best-eco-friendly-alternatives-for-the-plastic-in-your-life/
https://www.mckinsey.com/industries/retail/our-insights/what-radical-transparency-could-mean-for-the-fashion-industry#
https://www.cbaaf.org/collections/oatmeal/products/oatmeal-ss
https://www.cbaaf.org/pages/about
https://www.tenthousandvillages.com/jewelry/green-gold-bracelet
https://www.tenthousandvillages.com/about-us/
https://boleroadtextiles.com/collections/gifts-2/products/omo-hand-towel-cerise
https://boleroadtextiles.com/pages/philosophy
https://boleroadtextiles.com/pages/artisans
https://www.madetrade.com/collections/decor/products/anchal-project-small-graph-throw-pillow-spruce
https://www.beyondgood.com/shop/all-products/taste-of-madagascar-bundle